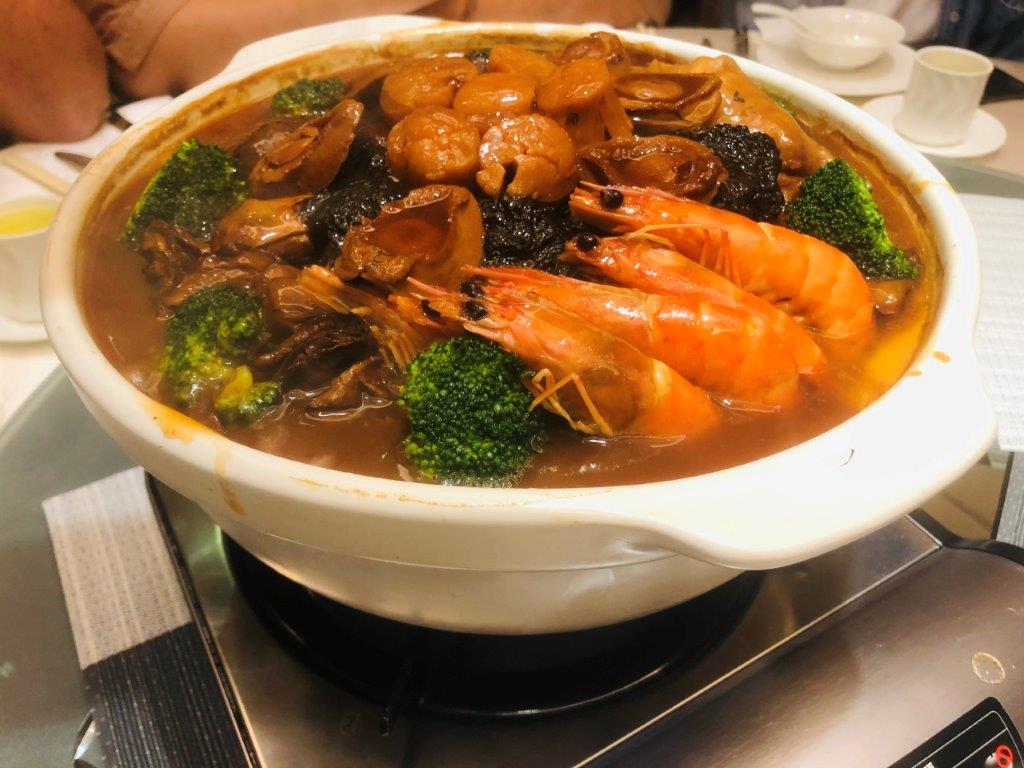 The indispensable "Poon Choi" cuisine during the Lunar New Year each year; its original meaning referred as "Full hall of luck" and "Full clothing and adequate food". The ingredients used in Poon Choi has special auspicious meaning behind. Looking back at the origin of Poon Choi, this spectacular dish came from Hong Kong, the New Territories of Hakka communities, that go for banqueting food celebrations, where its origin is quite lousy and plain flavored.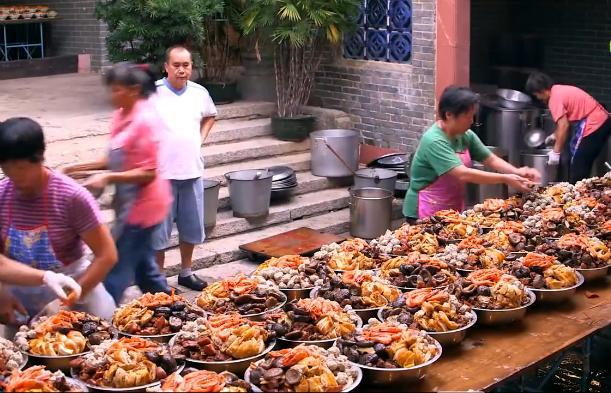 Feast with Poon Choi
The Hakka people in the surrounding villages of Hong Kong's New Territories present Poon Choi banquet during festive occasions like; weddings, individual birthdays, elderly special birthday celebrations, new residences, ancestral hall consecrations, new year's dinners, male full moons, etc. It also comes a traditional custom of dining on top of the hill; when worshiping ancesteral graveyards during the Ching Ming Festival.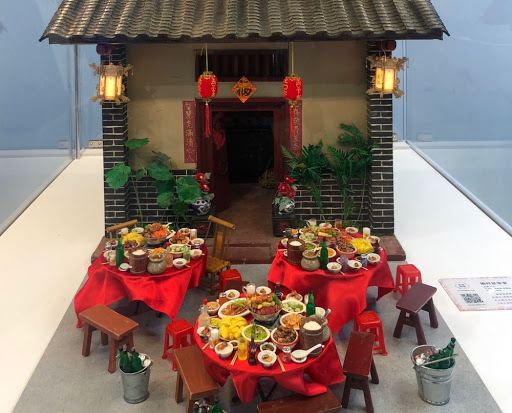 Traditional Poon Choi gatherings often celebrated by setting up a tent outside the ancestral hall; setting up a table in an open place, picking up dishes and chopsticks, making a large row of feasts. Participants are majority villagers; hundreds of people invited to an assigned banquet for non-stop celebrations. In the past, "wooden trays and basin bowls" once used to hold food; now then all replaced with antimony trays and heated with portable LPG stoves, well seated around the steaming Poon Choi. Such shocking scene showed the importance of family gatherings and attachment with each other, particularly its stunning banqueting styles; That all reflected in the food presentation.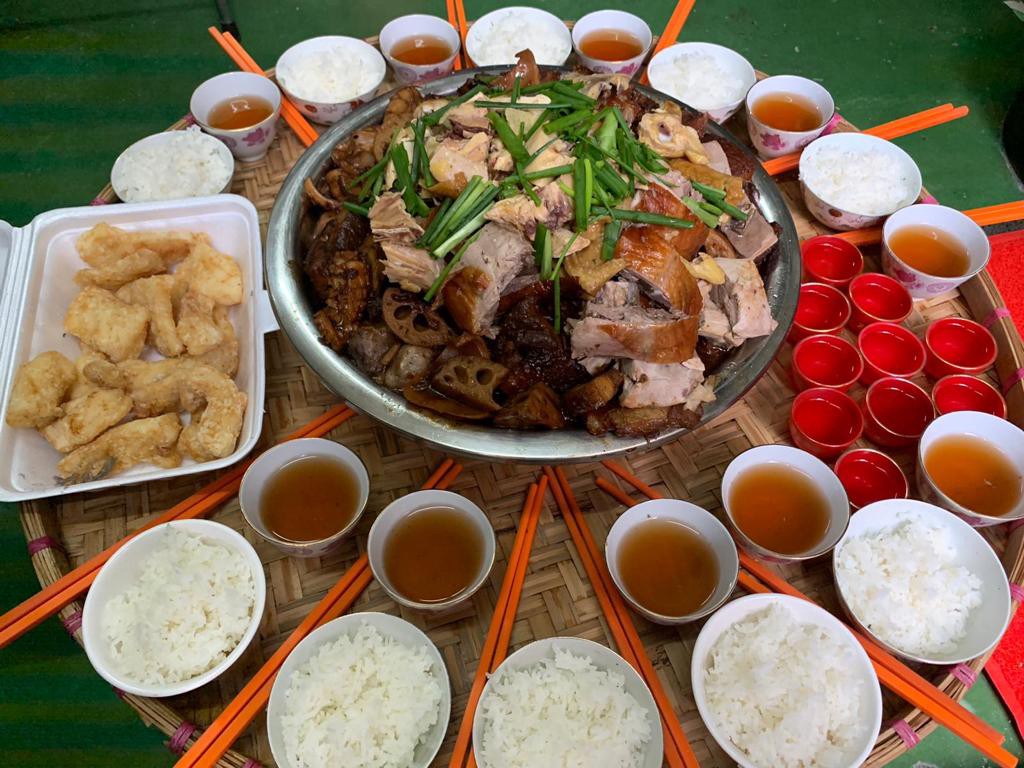 Poon Choi has become part of the food culture in Hong Kong and Macau. During major festivals, especially the approaching Lunar New Year; many major hotel and restaurants will compete with each other to sell this particular dish. A variety of luxurious Poon Choi combinations, its colors and styles, loaded full of gimmicks; Within those luxurious seafood combinations, the traditional yet simple types, are also available; say like abalone, Shark fins and Fish maws, are all-inclusive. Its taste are absolutely delicious in a stylish dining environment, indeed goes so full after.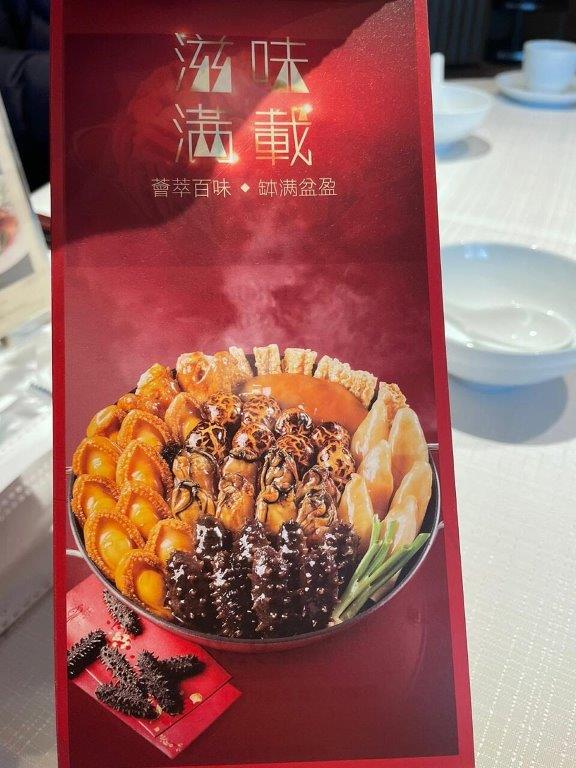 The Rise of Poon Choi
Decades ago, one famous fashion designer Tang Tat-chi; held a spectacular, Poon Choi feast, at the Tang's Ancestral Hall in Ping Shan on a New Year's Eve; Due to the fact that the invited two hundred invitees mainly from cultural and media background; hence right after the banqueting, the media exposed its delicatees and cuisine tastes; thus, with such influences that moved forwarded all, Poon Choi has now served as the main dish for banquetings.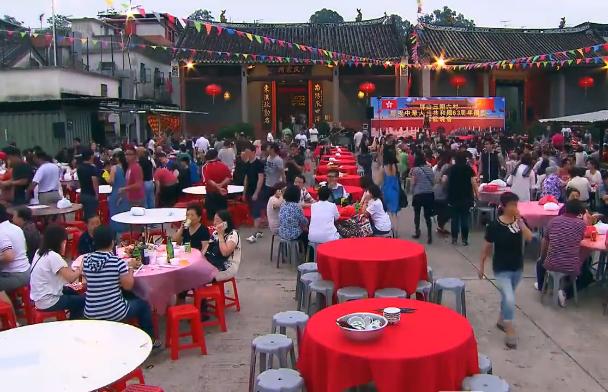 Gradually then, not only Hong Kong, but Macau has also gain the eating influences. Most restaurants and hotels have added Poon Choi pot seat arrangements to meet all needs. Even at Cha Chaan Tengs and other big brand stalls, also providing such meals. Poon Choi for take-out is also very popular nowadys. The packaging is exquisite and easy to carry. Food got heat-up farily easily while enjoying at home. Under this traditional way of eating has become a trend, and it is a common must-eat dish on festivals.
Food layering must be in order
There are so many Poon Choi style making, in fact there is no particular dish settings. They are mainly chickens, ducks and pigs. The heavenly duck (or chicken), preserved soy bean ducklings, stuffed plum ducklings, fried dried eels, braised mushrooms, sour pork knuckles; right after adding stir-fried pain white rice, adding chicken (or duck) with dried baby shrimps boiled together with chicken duck rice. Back to the old times the formely villagers coming from poor food resources, the food nowadays was just coming from heaven. No matter it simply just chicken or duck included, all steamed well with rock sugar and rose wines; the meat is so juicy and tender.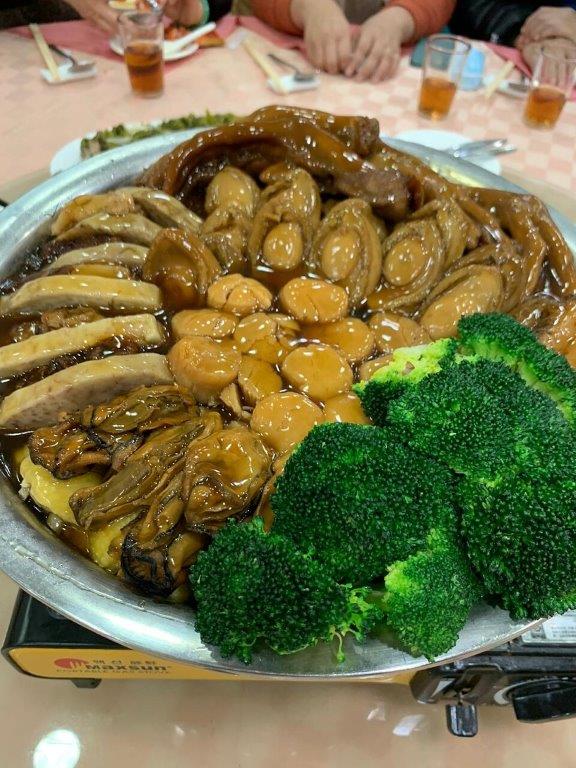 The Poon Choi chicken and duck meat will not placed inside the pot. Start counting from the bottom layer the radish, pig skin, dried bean curd, and marinated pork etc. Braising a delicious pork item is the most important part of Poon Choi; in order to reduce the confusion with other fresh meat avoid the conflicting flavors, the traditional practice was that all meat needs to be separated.
New Style Poon Choi
At present, there are many styles of Poon Choi in the market, such as fish soup base, the spicy ones, ancient authentic styles and other western elements. Others have other expensive ingredients like abalone, sea cucumber, shark fin and fish maws mixes, twenty top-graded abalones are always the recommended main dishes. Paired with nourishing materials such as fish maw, seavcucumber, and fresh sea welk slices, creating a "The Supreme Premiums" Poon Choi Banquet; Rests have Lobster, meat crab, sea welk slices, scallops, roasted eel, and the "Haidilao basin" with glutinous rice as the core base ingredients;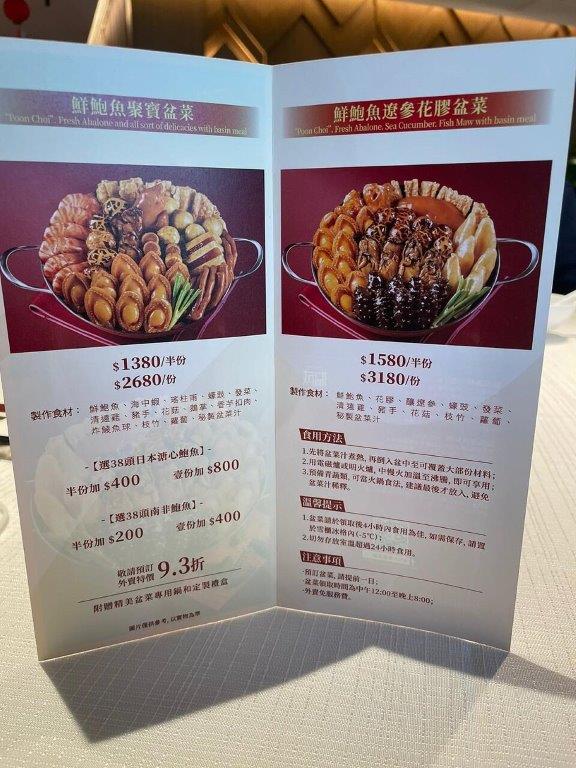 It felt pretty much like selling in the Moon Cake market. In order to get more customers each year, there are many "inexplicable" Poon Choi appear in the market; curry types, Spicy ones, the assorted soy marinates, vegetarian, etc. There are also tomatoes kinds, the tom yum soup base, and even self pick optional items available.
Cultural preservation
From cultural preservation perspectives, let's start off with Poon Choi food culture for now; The Hong Kong new urban blocks has developed rapidly recently, and the New terrirotiry village residence and its population growth start minimising. When it comes to preservation and promoting traditional Chinese characteristics of the former colonies such as: the village ancestor beliefs, the preservation of villages singled-surnames traditions, each temple's history, and changes in the history of social systems, etc., it sounds really simple to speak out and perform these preservations duties, but yet it is comparable to work in pace with the society's current rapid development. Such impact might ended up a quite sophiscated, social conflict correlations within it.
If wish to keep the above said "traditional culture" as startups by using Poon Choi as a measure point, there is no doubt that these are all items needs to get "well-preserved". But this cultural relic food tradition should based on the village cultural tradition? Or based on the current market demand, constantly creating new improved food products, and live out another revolutionary dietary era philosophies?
Macau Food Culture Preservations
The Macau Macanese Food Culture has gone through great support from different groups and associations including the government sectors, social organizations, and various local communities in general; as well as the ongoing preservation of cookbooks over centuries of age. There are also Cantonese, Burmese, Thai, and even local street snacks that have started to develop their preservence. They also need to be in excellent shape before Macau can actually become a true representative of multi-food cultural destinations. As time flies, the effort puzzling a complete historical roadmap ready for the next local generations to be seen, as well as the public and tourists in general, requires all various parties' cooperations; together with recording retentions and dissemination of various social organisations' promotion is crucial.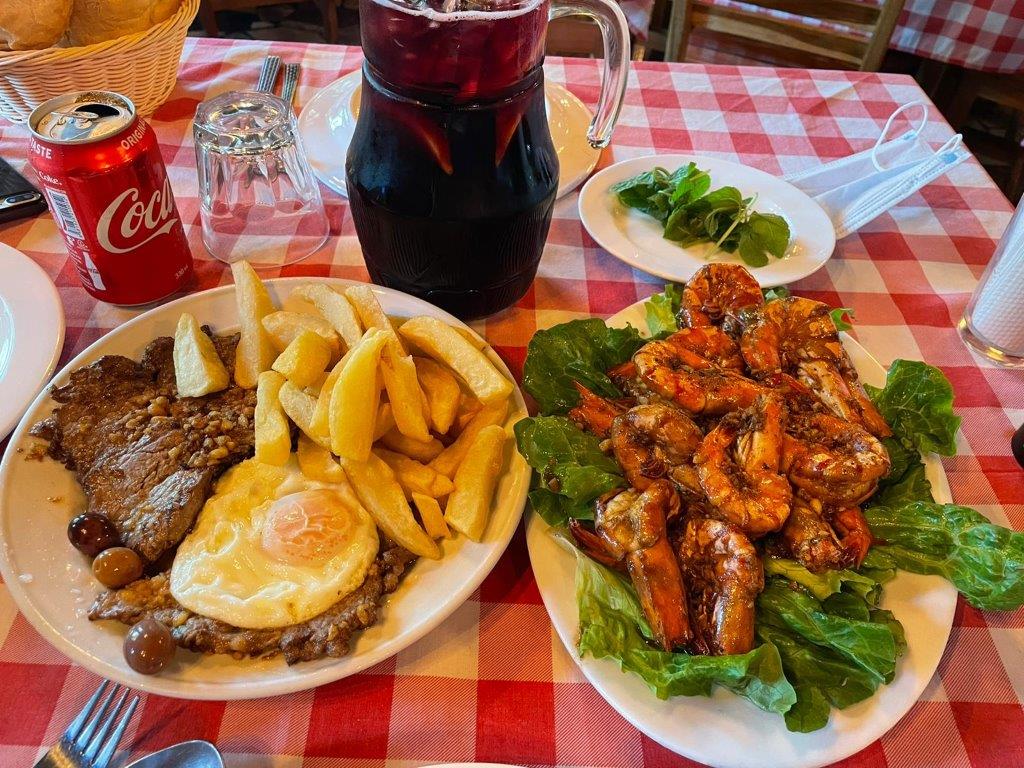 For instance, the way how to preserve its historical and cultural memories of the surrounding villages in Hong Kong and the New Territories, trying not slowly obliterate their tradiitonal food cultural characteristics, etc…. That is not only Hong Kong that needs to pay full attention on, but also the cultural conservations of Macau, or even apply to the rests of the world's local traditions. And yet, it is always everyone's common challenges and topics to learn from it after all.