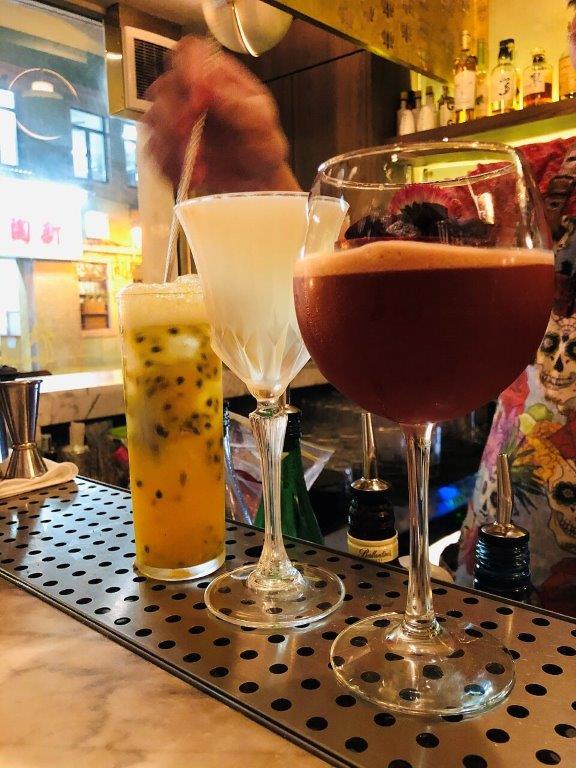 Crossover Indian style snack bar restaurant Goa Night – is located in the heart of Taipa's old town. I believed everyone tried Indian food many times; The general impression goes to full Indian flavor, injected with leading colorful decor, infused with strong smell of Indian aroma curry flavor. All inspirations said came along with fashionable, Indian snacks choices, blended with former Portuguese colony of Goa. Their extensive menu items offer variety of local and international dishes, satisfying guests from different backgrounds, making Indian snacks no longer boring.
Opened in 2018, the award-winning stylish Indian restaurant, currently led by Indian Mixologist Shobit Shetty, offers variety of creative handmade cocktails, Indian and Western snacks.
Architectural Heritage Designs
The restaurant composes three stories high. Most seats gathered on the ground floor, with high stools surrounding the bar area mainly – with its own characteristics. Fabulous hand crafted Graffiti featured on each level, on eye catching angled wall. The warm golden light projected little lotus patterns, reflected against the wall on the ground floor. Lotus in Indian Hindu culture means good harvest and wealth, which brings good luck. The entire bar ceiling with repetitive lotus patterns paired with golden carvings as their inspiring decor throughout the place. There are special seats walking straight up to the second floor; The entire Taipa scenery viewed from the terrace few blocks all the way down to the spectacular view point, Rua da Cunha.
The Food that really matters
I sat next to the bar that night; immediately served with Indian appetizer "Dahi Puri". Made of fried hollow dough puri shells, stuffed with potatoes, Chaat Masala, onions and various chutneys, added whipped cheese; it leads to crisp flour with a few fresh coriander leaves splashed on top. Right after, it comes with Goa Night Nachos, which is a very vegetarian dish, with two different cheeses, yogurt, and colorful Indian spices. Having few glasses of cocktails, which really can't filling up too much food. Watching the neighboring curry Chicken Mini Hamburgers and the new fusion pulled pork Vindaloo and now popular "Bao".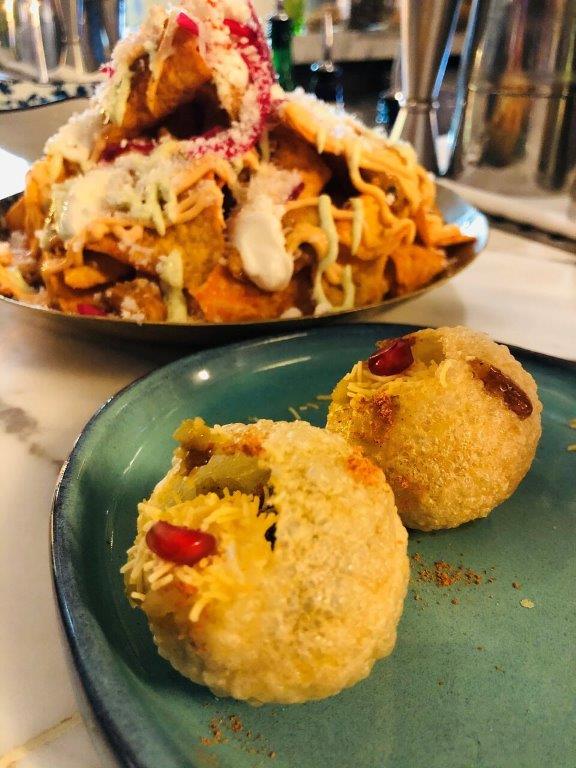 The perfect combination of these popular flavors, and the way how that blended with Chinese and Indian fusion crossovers, was just amazing! Worth a try on their Indian bread paired in hummus; a dip made of chickpeas and sesame-olive oil, lemon and garlic, and vegetables. Highly recommended, Special Fried Chicken pairing cocktail beverages.
Goa's Signatures: Goa Night Nachos, Curry Chicken Mini Hamburgers, Lamb Chops, Fried Clams, Grilled Meat and Pitta Bread.
Cocktail Collections
The restaurant launched a cocktail journey exploration series, inspired by six famous landmarks from Goa and Macau Heritage spot. Each cocktail style reflected the infinite imagination of each landmark of their unique color, fragrance and taste, according to the characteristics of each item; making patrons felt like they exists in a different location.
I tried the most famous Happy Street (red window doors), St Helena Bay (famous shore back in the nautical period); and their iconic Old Taipa Village (Taipa Old Town) special drinks are worth recommending.
Happy Street (Rua da Felicidade):
This cocktail inspired from ancient red light Macau districts. It is a cocktail of beetroot and gin infused with passion fruit and coconut water.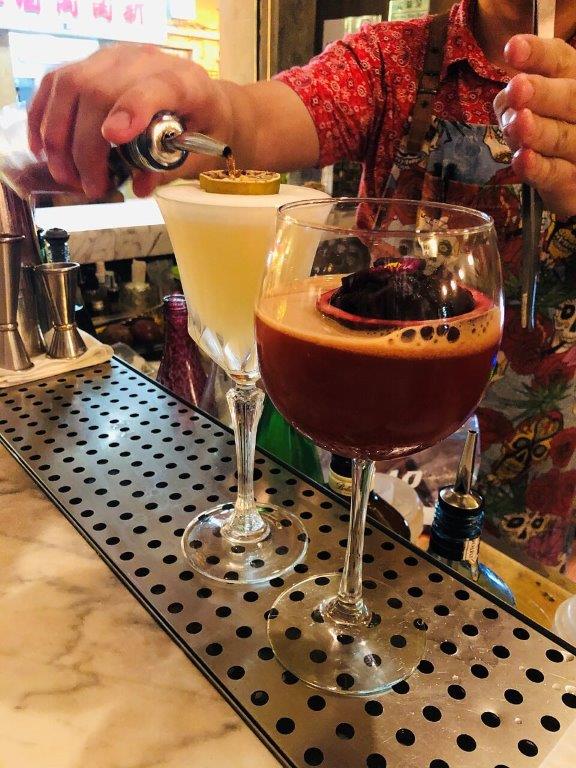 Old Taipa Village:
This is the "cocktail" that represents the icon of Goa Night. Palm tree is the icon of Goa within Taipa Village. This cocktail made with whiskey sous vide, caramelised banana, elder flower liquor and cinnamon syrup.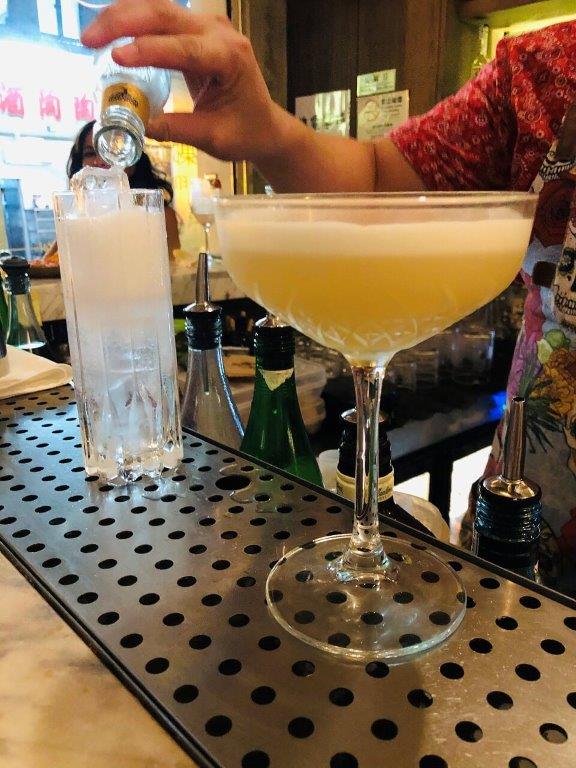 St. Helena's Bay:
Soft opening throat cocktail, neutralizing with vodka and cucumber, moderate alcohol strength, easy to drink straight; the most refreshing cocktails.
Speaking of cocktails – Well, over a million ways creating it. Each glass with a unique theme; The bar-stylist assist guests customize their own favorite cocktail styles; They tailored made according to the mood captured that time, the color preferences, best individual favorite tastes and necessary adjustments that night.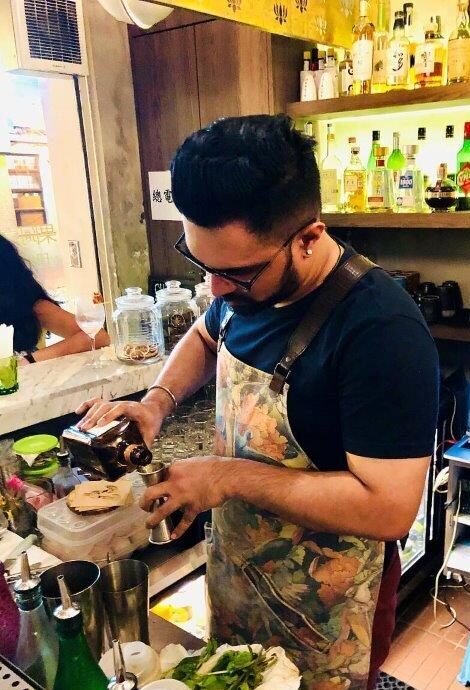 The most interesting part was majority patrons were all female guests; versus men preferably focusing on food stuff. Considering the most unique point about their restaurant too – was to provide the most intimate and instant bar-tending services; There is always a room for communication, creating tailored made, unique cocktail beverages; Same time, they assist on customer preferences and inspirational thoughts; which never went bored.
This kind of food cultural exchange is really worthwhile mentioning in this blog columns; Not just only tourists, locals should try this revolutionary Southeast Asian, "Indo-Portuguese-Macanese" dining experience.